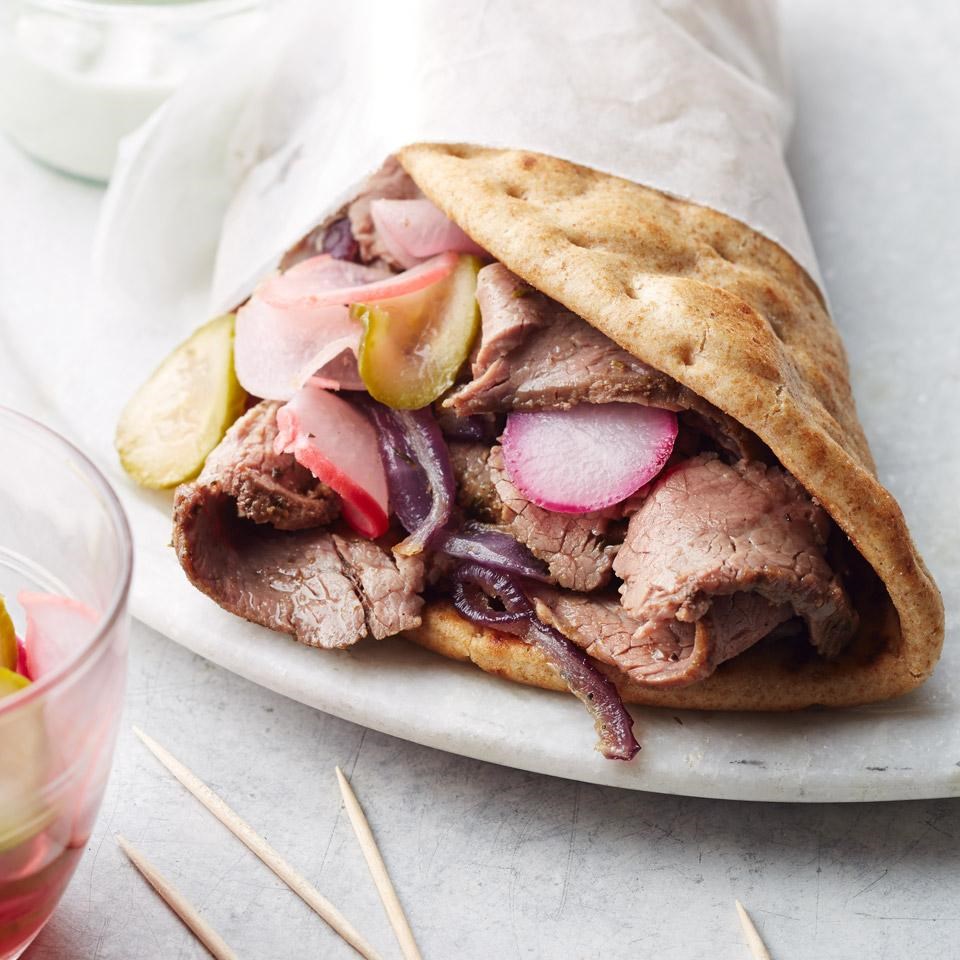 Typically gyro meat cooks on a rotisserie for hours. For this fast and healthy gyro recipe, flank steak is brushed with seasoned oil and broiled. Not a pickling pro? No problem. You can get all the flavor and crunch in a fraction of the time by marinating thinly sliced vegetables in a hot vinegar mixture for a few minutes. Try them on burgers and other sandwiches too. Look for tzatziki—Greek cucumber-yogurt sauce—near other prepared refrigerated dips like hummus and salsa."
Ingredients
2 tablespoons extra-virgin olive oil, divided
¾ teaspoon ground coriander
¾ teaspoon ground cumin
¾ teaspoon dried thyme
1 teaspoon salt, divided
½ teaspoon ground pepper, divided
1 pound flank steak, trimmed
1 large red onion, sliced
1 cup water
½ cup white vinegar
1 teaspoon white sugar
3 cups thinly sliced vegetables, such as turnips, cucumber and/or radishes
4 6-inch whole-wheat pitas, warmed
½ cup tzatziki sauce
Directions
1

Position rack in upper third of oven; preheat broiler to high. Line a rimmed baking sheet with foil.

2

Combine 1 tablespoon oil, coriander, cumin, thyme, ½ teaspoon salt and ¼ teaspoon pepper in a small bowl. Brush both sides of steak with the seasoned oil. Place on the prepared baking sheet. Toss onion with the remaining 1 tablespoon oil and the remaining ¼ teaspoon pepper in a bowl and scatter around the steak.

3

Broil, turning the steak and stirring the onion halfway through, until an instant-read thermometer inserted in the thickest part of the steak registers 145°F and the onion is charred, 10 to 15 minutes.

4

Meanwhile, combine water, vinegar, sugar and the remaining ½ teaspoon salt in a medium saucepan. Bring to a boil. Add vegetables and cook for 1 minute. Remove from heat.

5

Slice the steak and drain the vegetables. Serve in pita bread with the charred onion and tzatziki.