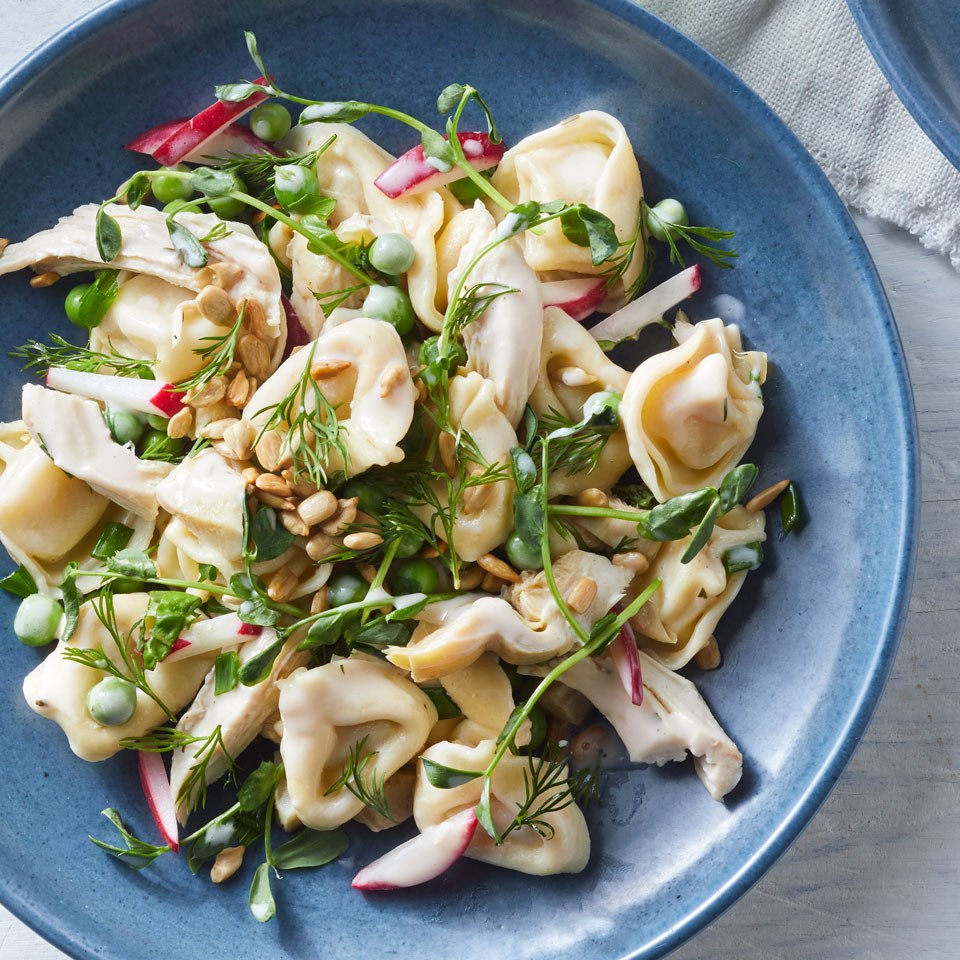 Store-bought tortellini and frozen peas keep things quick in this healthy 30-minute meal. Jazzed-up bottled salad dressing helps you go even faster. Look for one with 200 mg or less of sodium and 3 g or less of sugar per serving."
Ingredients
1 pound boneless, skinless chicken breast
2 bay leaves
6 cups water
1 (20 ounce) package fresh cheese tortellini
½ cup peas, fresh or frozen
¼ cup creamy salad dressing, such as ranch or peppercorn
2 tablespoons red-wine vinegar
5 tablespoons chopped fresh herbs, such as basil, dill and/or chives, divided
½ cup chopped marinated artichokes plus 2 tablespoons marinade, divided
½ cup julienned radishes
1 cup pea shoots or baby arugula
2 tablespoons sunflower seeds
Directions
1

Combine chicken, bay leaves and water in a large saucepan. Bring to a boil over high heat. Reduce heat to low, cover and simmer until an instant-read thermometer inserted in the thickest part registers 165°F, 10 to 12 minutes. Transfer the chicken to a clean cutting board to cool.

2

Remove the bay leaves. Add tortellini to the pot and return the water to a boil; cook, stirring occasionally, until the tortellini are just tender, about 3 minutes. Add peas and cook 1 minute more. Drain and rinse with cold water.

3

Meanwhile, combine dressing, vinegar, 3 tablespoons herbs and artichoke marinade in a large bowl. Shred the chicken and add to the dressing along with the tortellini, peas, artichokes, radishes and pea shoots (or arugula); stir to combine. Serve the salad topped with the remaining 2 tablespoons herbs and sunflower seeds.