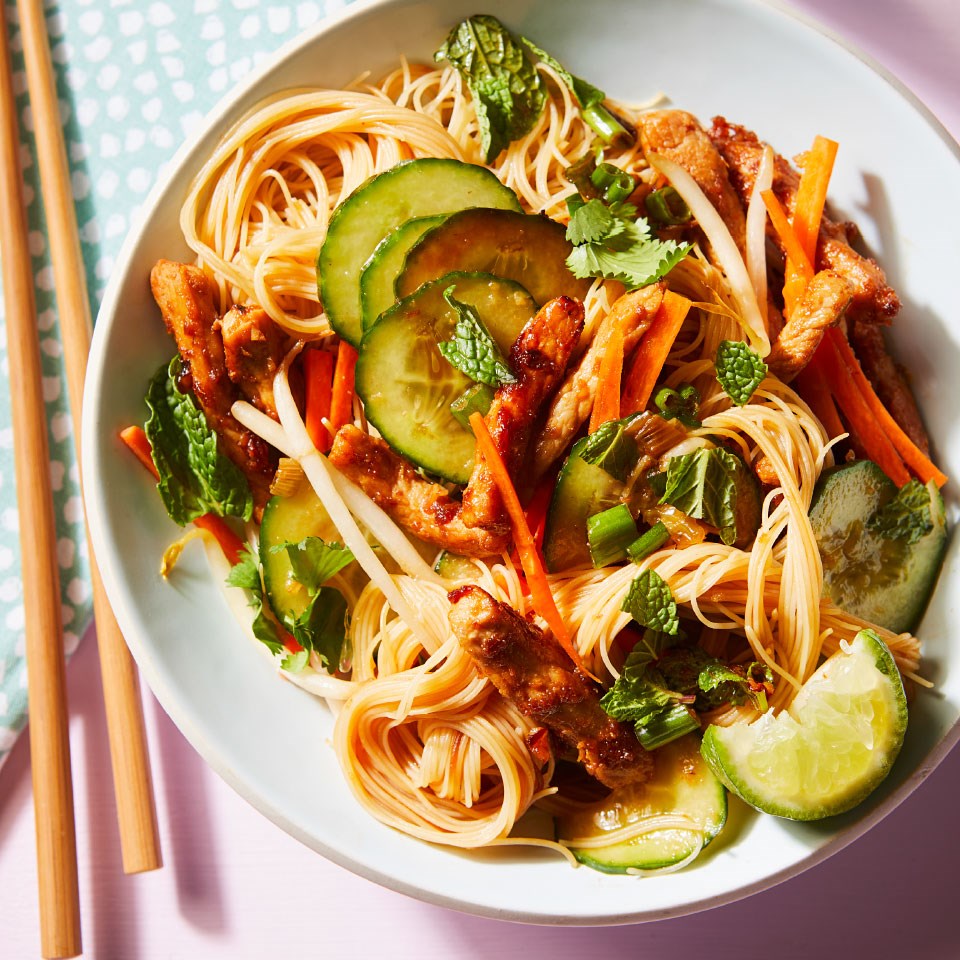 The sauce for this healthy noodle dish is made of just 3 ingredients: honey, fish sauce and store-bought chili-garlic sauce, which you can find in the Asian aisle of many grocery stores. The sauce is combined with rice noodles, pork, veggies and herbs for a simple dinner recipe that's also impressive."
Ingredients
4 teaspoons honey
1 tablespoon fish sauce
1 tablespoon chili-garlic sauce
2 tablespoons olive oil
1 pound thin boneless pork chops, trimmed and cut into ¼-inch strips
6 scallions, sliced, white and green parts separated
1½ tablespoons minced fresh garlic
1½ tablespoons minced fresh ginger
¼ teaspoon ground pepper
½ (8 ounce) package vermicelli rice noodles
1 small English cucumber, thinly sliced (about 2 cups)
1½ cups fresh bean sprouts
1 cup julienned or shredded carrot
¼ cup chopped fresh mint
¼ cup chopped fresh cilantro, plus more for garnish
2 tablespoons lime juice, plus wedges for serving
Directions
1

Combine honey, fish sauce, and chili-garlic sauce in a small bowl.

2

Heat oil in a large nonstick skillet or wok over medium heat. Add pork, scallion whites, garlic, ginger, and pepper; cook, stirring occasionally, until the pork is no longer pink, about 3 minutes.

3

Add the honey mixture, stirring and scraping up any browned bits from the bottom of the pan. Reduce heat to medium-low; continue cooking until the pork is just cooked through, about 2 minutes more. Remove from heat.

4

Cook rice noodles according to package directions. Reserve 1 cup of the cooking water, then drain the noodles.

5

Add the noodles to the pork. Add cucumber, bean sprouts, carrots, mint, cilantro, lime juice, and scallion greens; toss to coat. Stir in the reserved cooking water, ¼ cup at a time, until the mixture is saucy and loose.

6

Divide the pork and noodle mixture among 4 bowls and garnish with cilantro, if desired. Serve with lime wedges.