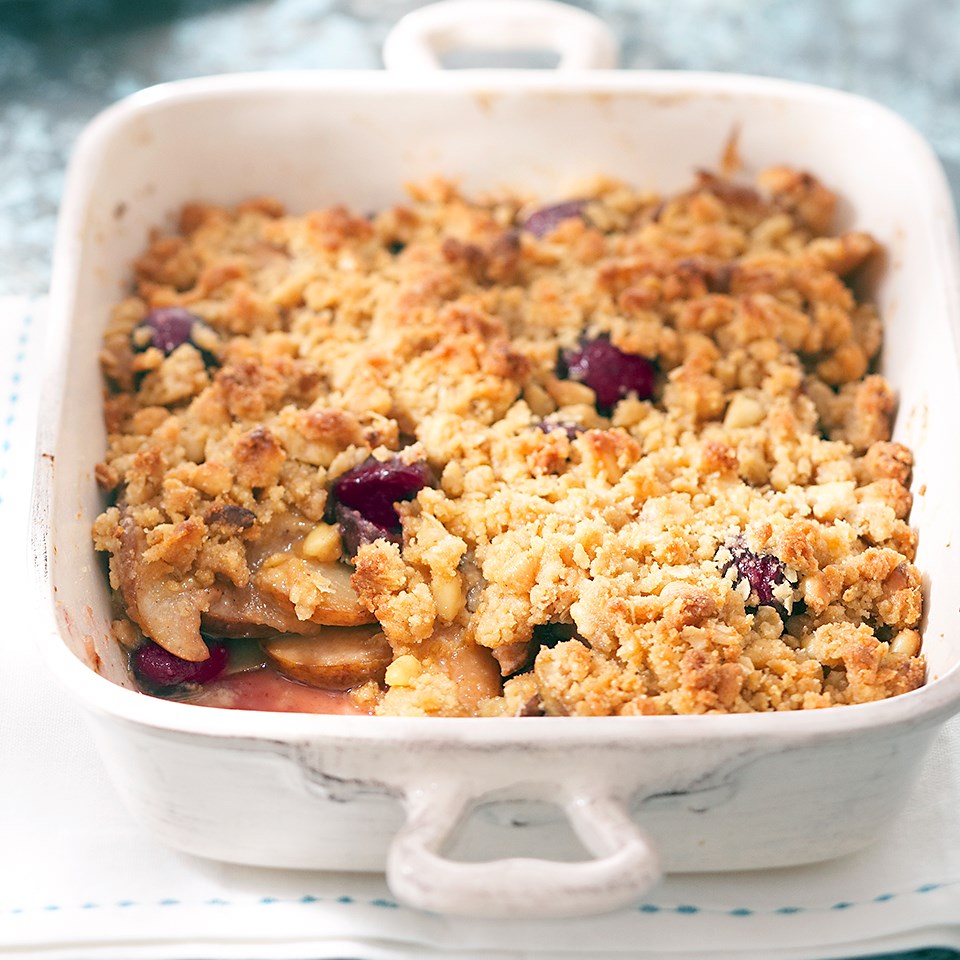 This fruit-based dessert crisp is high in fiber, thanks to the crunchy topper made with whole-wheat flour, oats and pine nuts."
Ingredients
½ cup white whole-wheat flour or all-purpose flour
¼ cup sugar or sugar substitute equivalent to ¼ cup sugar (see Tip)
3 tablespoons rolled oats
⅓ cup tub-style 50-70% vegetable oil spread, chilled
¼ cup pine nuts
¼ cup sugar or sugar substitute equivalent to ¼ cup sugar (see Tip)
2 tablespoons white whole-wheat flour or all-purpose flour
¼ teaspoon ground nutmeg
4 cups sliced, cored fresh pears or pitted fresh peaches
1 cup fresh or frozen unsweetened pitted dark sweet cherries
½ teaspoon almond extract
Directions
1

Preheat oven to 375°F. For topping, in a medium bowl, stir together the ½ cup flour, ¼ cup sugar and the oats. Using a pastry blender, cut in vegetable oil spread until the mixture resembles coarse crumbs. Stir in pine nuts.

2

For filling, in a large bowl, stir together ¼ cup sugar, the 2 tablespoons flour and the nutmeg. Add pear slices, cherries and almond extract. Toss gently to coat. Transfer filling to an ungreased 2-quart rectangular or square baking dish. Sprinkle topping over filling.

3

Bake for 30 to 35 minutes or until filling is bubbly and topping is lightly browned. Cool in dish on wire rack about 20 minutes. Serve warm.
Tip: If using a sugar substitute, we recommend Splenda(R) Granular or Sweet 'N Low(R) bulk or packets. Follow package directions to use product amount equivalent to ¼ cup sugar. Nutrition Per Serving with Substitute: 146 cal., 21 g carb. Exchange: 1 other carb. Carb choices: 1½.