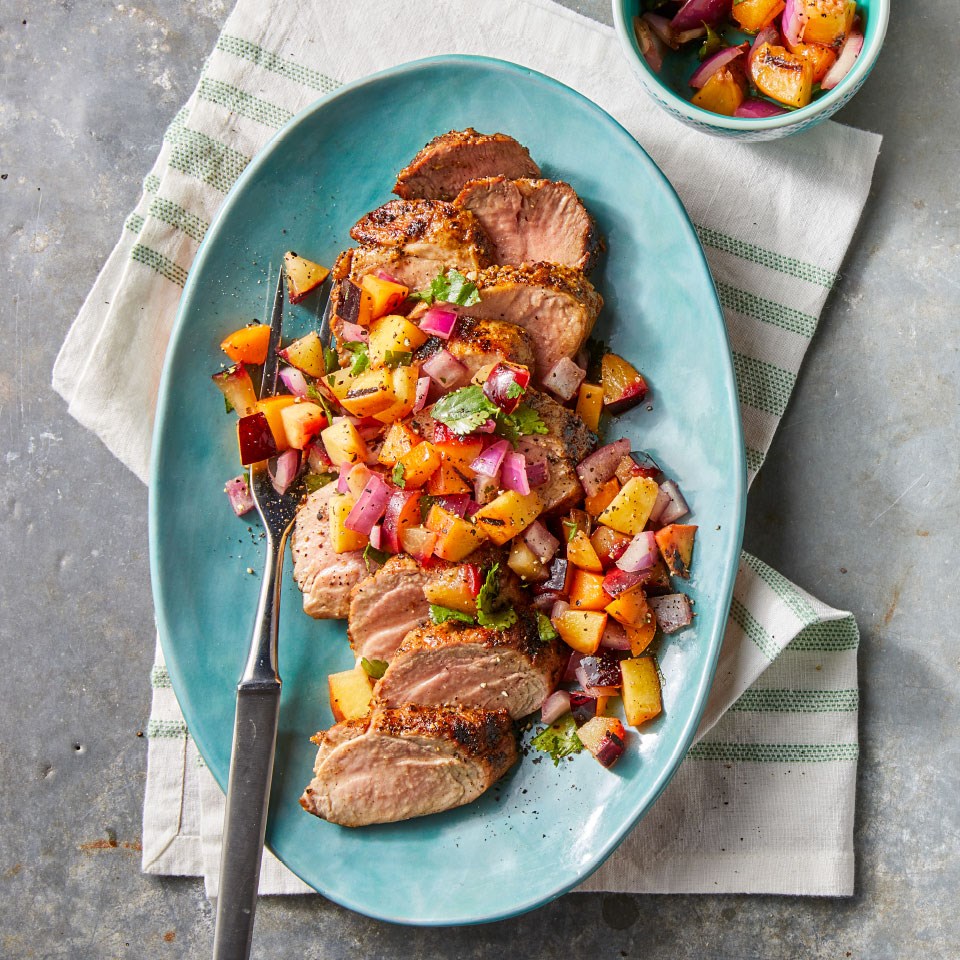 For this easy grilled pork tenderloin recipe, both the pork and the salsa ingredients are cooked on the BBQ, so you don't have to heat up the kitchen to prepare a healthy summer dinner. Grilling stone fruit caramelizes its sugars, enhances its sweetness and infuses it with smoky flavor. Any combination of peaches, nectarines, plums and apricots will work in this salsa—use 3 medium fruit total or about 4 to 5 small fruit. Try the salsa on chicken or fish too."
Ingredients
Peach Salsa
1 medium peach, halved and pitted
1 medium purple plum, halved and pitted
1 medium apricot, halved and pitted
1 1-inch-thick slice red onion
1 tablespoon olive oil
¼ teaspoon salt
¼ teaspoon ground pepper
2 tablespoons chopped fresh cilantro
1 tablespoon lime juice
Pork Tenderloin
1 tablespoon olive oil
2 cloves garlic, minced
¾ teaspoon chili powder
½ teaspoon ground cumin
½ teaspoon salt
¾ teaspoon ground pepper
1 pound pork tenderloin, trimmed
Directions
1

To prepare salsa: Preheat grill to medium. Brush fruit halves and onion slice with oil. Sprinkle with ¼ tsp. each salt and pepper. Grill the fruit and onion until tender and grill-marked, 3 to 4 minutes per side. Remove from grill and coarsely chop. Transfer to a medium bowl; stir in cilantro and lime juice.

2

To prepare pork tenderloin: Combine oil, garlic, chili powder, cumin, salt, and pepper in a small bowl; rub evenly over pork. Grill the pork over medium heat, covered, turning every 1½ minutes, until an instant-read thermometer inserted in the thickest part registers 145°F, 14 to 16 minutes. Transfer to a clean cutting board and let stand for 10 minutes.

3

Slice the pork diagonally. Divide the pork slices among 4 plates and top with the salsa.
To make ahead: Prepare salsa (Step 1) up to 8 hours ahead and refrigerate.
Equipment: Charcoal or gas grill