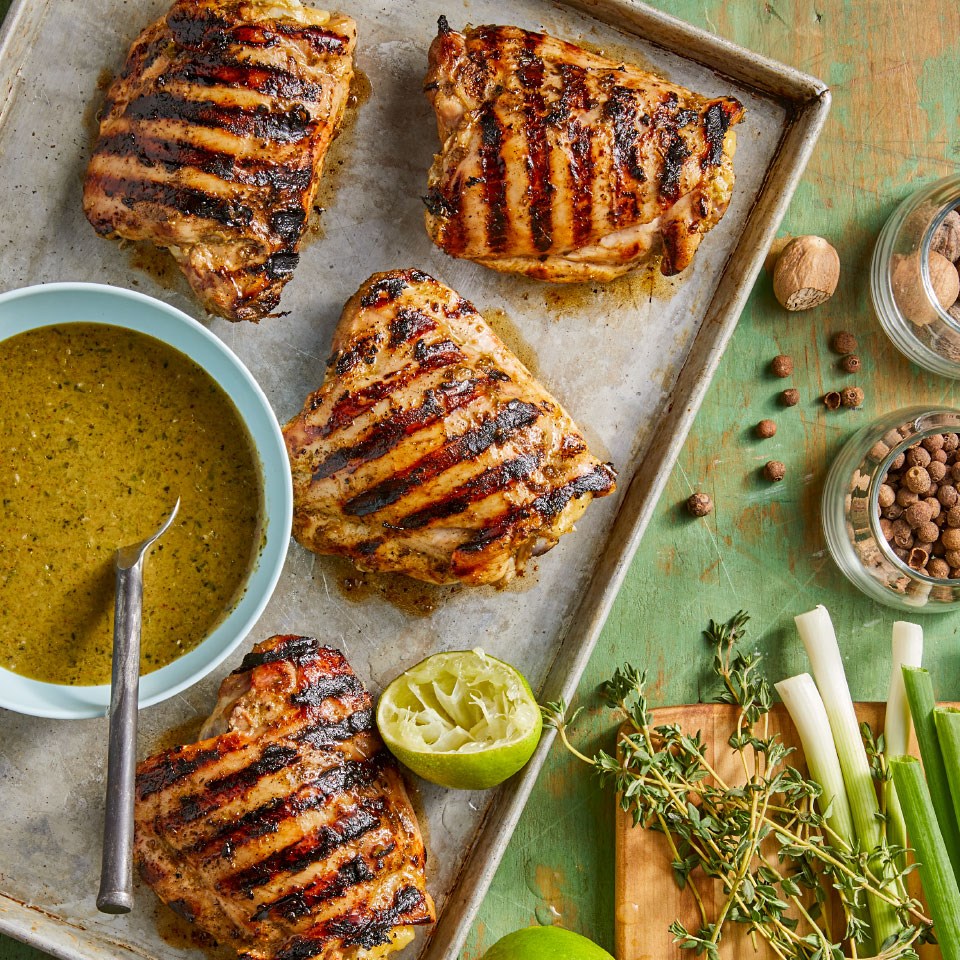 Jamaican jerk sauce traditionally uses Scotch bonnet peppers; here, we substitute jalapeños for a milder flavor. The jerk sauce serves as both a marinade and a sauce for meaty grilled chicken thighs. This healthy grill recipe takes just 30 minutes of active time, so as long as you plan ahead and factor in the marinating time it's perfect for a quick weeknight dinner or easy weekend BBQ."
Ingredients
Jerk Sauce
2 scallions, trimmed and coarsely chopped
2 jalapeño peppers, seeded and coarsely chopped (see Tip)
2 cloves garlic, chopped
2 tablespoons brown sugar
2 tablespoons lime juice
1 tablespoon fresh thyme leaves or 1 tsp. dried
1 tablespoon canola oil
1 tablespoon low-sodium soy sauce
1 tablespoon white vinegar
1½ teaspoons minced fresh ginger
1 teaspoon ground allspice
½ teaspoon ground nutmeg
¼ teaspoon salt
Chicken
1½ pounds bone-in chicken thighs (4 thighs), skin removed, trimmed
Directions
1

To prepare sauce: Combine scallions, jalapeños, garlic, brown sugar, lime juice, thyme, oil, soy sauce, vinegar, ginger, allspice, nutmeg, and salt in a food processor. Process until smooth. Spoon 6 Tbsp. of this mixture into an airtight container and refrigerate until ready to serve.

2

To prepare chicken: Place chicken in a shallow dish. Spoon the remaining jerk sauce over the chicken; turn to coat. Cover and refrigerate for at least 3 hours or for up to 8 hours.

3

Preheat grill to medium-high. Remove the reserved sauce from the refrigerator to bring to room temperature. Remove the chicken from the marinade; discard excess marinade.

4

Grill the chicken, covered, until an instant-read thermometer inserted into the thickest part registers 165°F, 5 to 7 minutes per side. Let stand for 10 minutes before serving. Serve the chicken with the reserved jerk sauce.
Tip: Wear gloves while handling hot peppers and wash hands immediately afterward.
To make ahead: Prepare jerk sauce (Step 1) and refrigerate for up to 2 days.
Equipment: Charcoal or gas grill