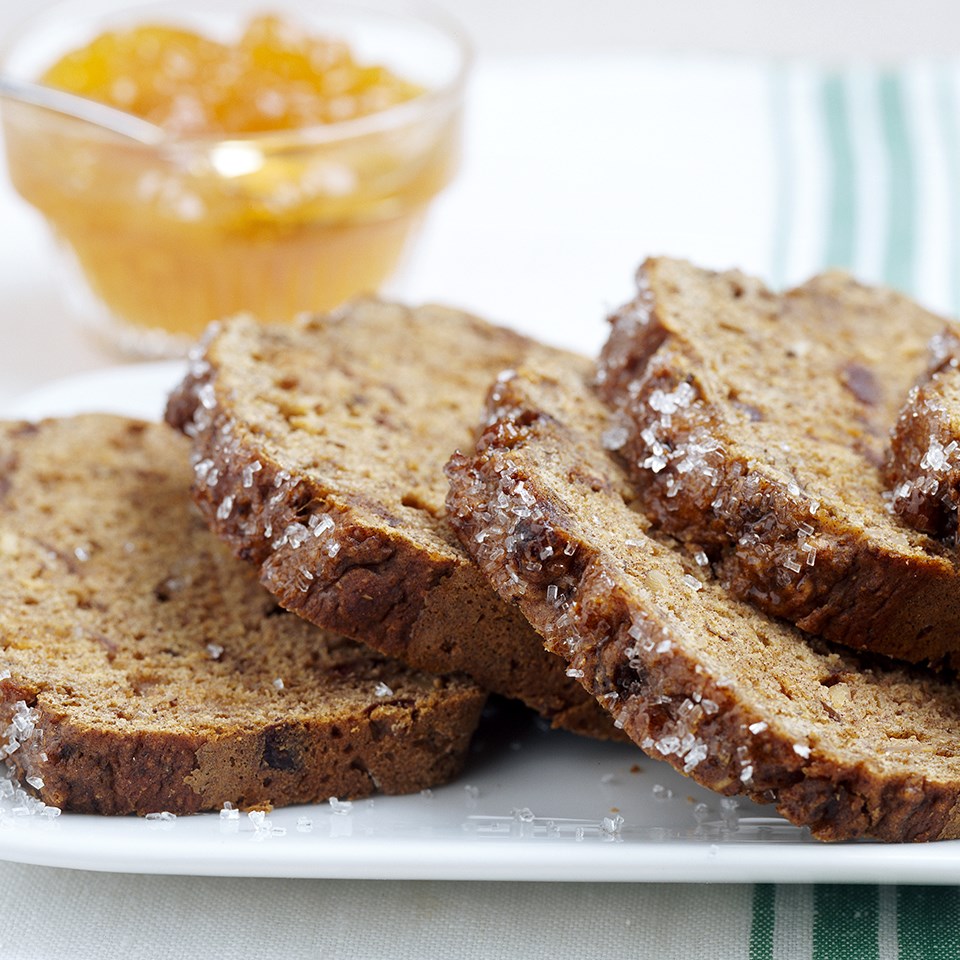 Dates are naturally sweet so no extra sugar is needed in this quick-bread recipe. Toasted almonds add a nice crunch and the optional coarse sugar topping—while it isn't needed for sweetness—certainly adds to the presentation."
Ingredients
1 (8 ounce) package pitted whole dates, snipped
1½ cups boiling water
1 cup all-purpose flour
1 cup whole-wheat flour
1 teaspoon baking soda
1 teaspoon baking powder
½ teaspoon salt
1 egg
1 teaspoon vanilla
½ cup sliced almonds, toasted and coarsely chopped
Light-colored corn syrup (optional)
Coarse sugar (optional)
Directions
1

Place dates in a medium bowl. Pour the boiling water over the dates. Let stand for about 20 minutes or until the dates are softened and the mixture has cooled slightly.

2

Preheat oven to 350°F. Lightly grease the bottom and ½ inch up the sides of an 8×4-inch loaf pan; set aside. Stir together both flours, the baking soda, baking powder, and salt in a large bowl. Beat the egg and vanilla in a small bowl with a fork; stir into the cooled date mixture. Add the date mixture and almonds to the flour mixture; stir until well mixed (the mixture will be thick).

3

Spoon the batter evenly into the prepared pan. Bake for 50 to 55 minutes or until a toothpick inserted near the center comes out clean. Cool in the pan on a wire rack for 10 minutes. Remove from the pan. Cool completely on the wire rack. Wrap the cooled loaf in plastic wrap and store overnight before slicing. If desired, brush the loaf with corn syrup and sprinkle with coarse sugar before slicing.
Tip: To toast nuts, spread in a shallow baking pan lined with parchment paper. Bake in a 350°F oven for 5 to 10 minutes or until golden, shaking pan once or twice.