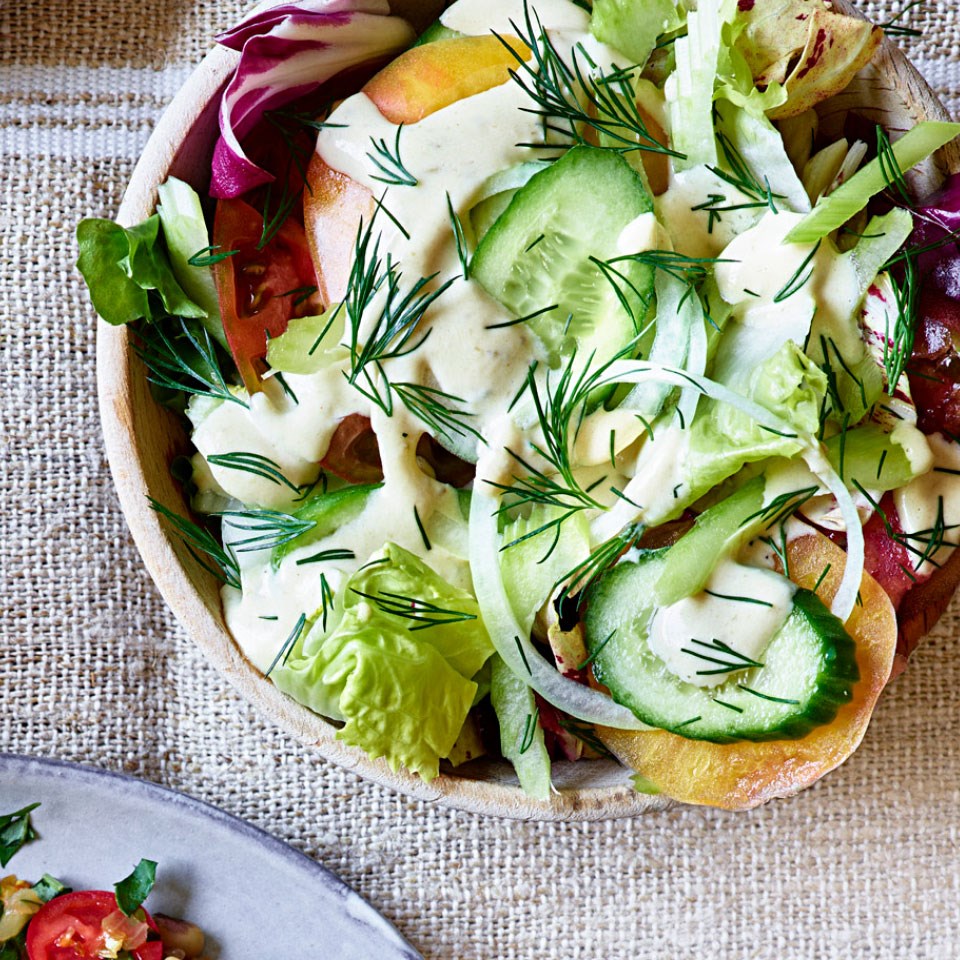 This healthy fish recipe from chef Mike Lata is made with banded rudderfish, which is an amberjack—a species coveted in sushi restaurants, where it's known by its Japanese name, hamachi. Lata's love affair with the Italian dish vitello tonnato (cold sliced veal with tuna sauce) started with a glorious one he had in Milan. He's found the sauce to be a great way to use the scraps that result from butchering whole fish. He serves thicker versions over cold poached meats and thinner ones like this over vegetables and salads."
Ingredients
4 ounces skinned banded rudderfish, amberjack or mahi-mahi
½ teaspoon kosher salt, divided
⅛ teaspoon ground fennel seed
Pinch of ground white pepper
½ cup extra-virgin olive oil
1 bay leaf
1 (3 inch) strip lemon zest
1 (3 inch) strip orange zest
2 sprigs fresh basil
2 sprigs fresh thyme
1 large egg yolk
1½ teaspoons capers, rinsed
1½ teaspoons lemon juice
1½ teaspoons white-wine vinegar
2 oil-packed anchovy fillets
½ teaspoon colatura di alici or fish sauce
8 cups chopped bitter greens, such as escarole, endive and/or radicchio
2 large heirloom tomatoes, sliced
2 stalks celery, thinly sliced diagonally
1 small sweet onion, thinly sliced
1 small cucumber, thinly sliced
3 tablespoons chopped fresh dill
Directions
1

Preheat oven to 200°F.

2

Place fish in a 9-by-5-inch loaf pan and sprinkle with ¼ teaspoon salt, fennel and white pepper. Add oil, bay leaf, lemon and orange zest, basil and thyme. Cover with foil.

3

Bake until the fish is cooked through, 30 to 40 minutes. Uncover and turn the fish over. Bake for 10 minutes more. Let cool to room temperature, about 30 minutes.

4

Transfer the fish to a food processor. Strain the oil through a fine-mesh sieve into a bowl. Add egg yolk, capers, lemon juice, vinegar, anchovies and colatura (or fish sauce) to the food processor. Blend until smooth, scraping down the sides as needed. With the motor running, slowly stream in the strained oil until emulsified.

5

Arrange greens, tomatoes, celery, onion and cucumber on a platter and sprinkle with the remaining ¼ teaspoon salt. Drizzle with the "tonnato" and sprinkle with dill.