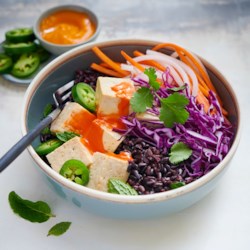 For this easy dinner recipe, we've taken inspiration from the popular Vietnamese banh mi sandwich, but lost the bun to make room for one of our favorite whole grains: black (aka forbidden) rice. To make these healthy grain bowls vegetarian, simply use additional tamari in place of the fish sauce."
Ingredients
1 cup black rice, rinsed
2 cups water
1 teaspoon salt, divided
1 tablespoon toasted sesame oil
1 tablespoon reduced-sodium tamari
2 teaspoons fish sauce or tamari
1 teaspoon honey
1 (14 ounce) package firm water-packed tofu, cubed
½ cup rice vinegar
1 tablespoon sugar
1 cup julienned carrot
1 cup julienned daikon radish
½ cup shredded red cabbage
¼ cup fresh mint and/or cilantro
Sriracha mayo & sliced jalapeño for garnish
Directions
1

Combine rice, water and ¼ teaspoon salt in a medium saucepan. Bring to a boil over high heat. Reduce heat to maintain a gentle simmer, cover and cook until the rice is tender, about 30 minutes. Remove from heat and let stand, covered, for 5 minutes.

2

Meanwhile, mix oil, tamari, fish sauce (or more tamari) and honey in a large bowl. Add tofu and toss to coat. Let stand at room temperature, stirring occasionally.

3

Whisk vinegar, sugar and the remaining ¾ teaspoon salt in a medium bowl. Add carrot and daikon and let stand for 15 minutes. Drain and discard liquid.

4

Divide the rice, tofu, marinated vegetables and cabbage among 4 bowls. Serve topped with herbs, Sriracha mayo and jalapeño, if desired.