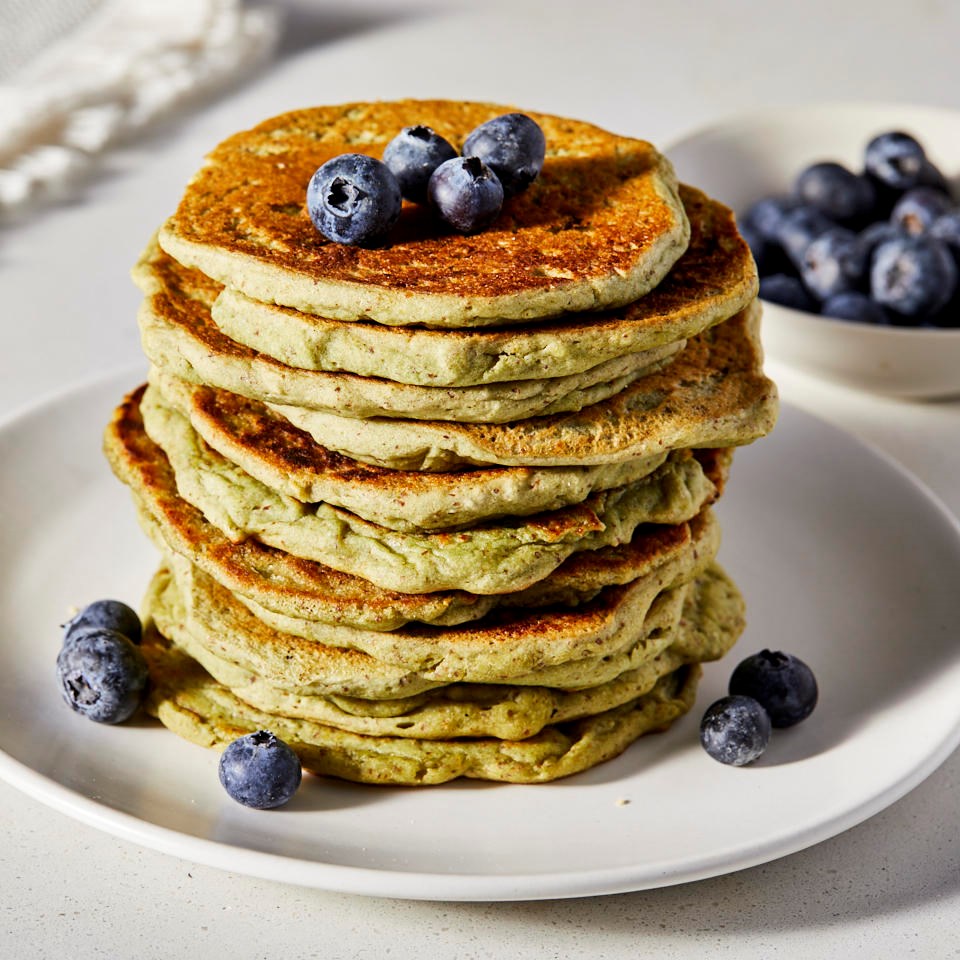 These tasty and attractive avocado pancakes are both vegan and gluten-free. The optional spirulina powder—made from algae—enhances the green color and can be found at natural-foods stores, some grocery stores and online. But feel free to omit it; the pancakes taste just as good without it. Top stacks with your favorite berries for a healthy breakfast that'll brighten your day."
Ingredients
2 tablespoons flaxseed meal
5 tablespoons water
1 cup unsweetened almond milk
⅓ cup mashed ripe avocado
2 tablespoons sugar
1 teaspoon lemon zest
1 teaspoon vanilla extract
¼ teaspoon salt
¼ teaspoon spirulina powder (optional)
1⅓ cups gluten-free all-purpose flour
1½ teaspoons baking powder
1 teaspoon canola oil
Blueberries (optional)
Directions
1

Place flaxseed meal in a small bowl. Add water and stir well. Let stand for 5 minutes.

2

Place almond milk, avocado, sugar, lemon zest, vanilla, salt and spirulina (if using) in a blender; puree until completely smooth, about 1 minute. Transfer to a large bowl. Stir in the flaxseed mixture.

3

Whisk flour and baking powder in a medium bowl; fold into the avocado mixture.

4

Heat a large nonstick skillet or griddle over medium heat. Using a paper towel, spread a thin layer of canola oil in the pan. Use ¼ cup of batter for each pancake; gently spread into 3½-inch circles. Cook the pancakes until browned and cooked through, about 4 to 5 minutes per side. Repeat with the remaining batter. Serve with blueberries, if desired.